I took this pictures last week during our visit to my husband's Mom who got hospitalized. I remember she was taken by a 911 ambulance from her house after my brother in law and I couldn't get her up after she fell on the side of her bed early morning. She was on her knees when I got to her house and she's groaning in pain. My heart couldn't bear her suffering but I tried my best to really help her up and alleviate her knee pain. After she was brought to the Emergency room, her doctor finally decided to confine her in the hospital to treat her bladder infection which triggered her heart failure episode. The doctor explained to her exam readings that her heart is getting weak and she needs rest and antibiotics to treat her infection.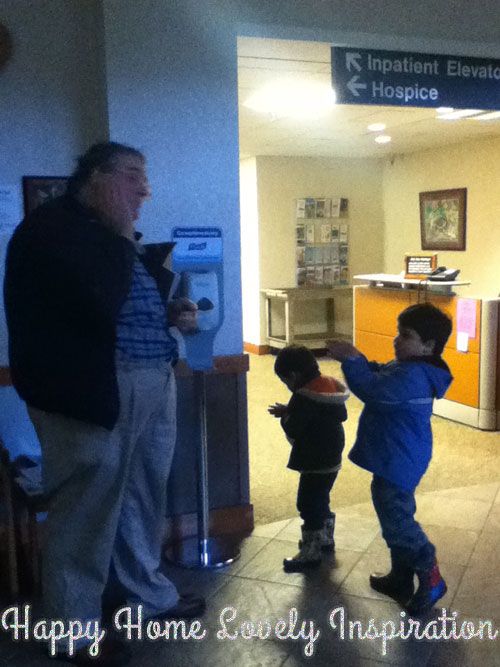 My husband and kids were sanitizing their hands at the entrance of the hospital lobby to visit Grandma.
She was taken to a room in CCU (Critical Care Unit). I can see my Mother in law consoled after she saw her Grandsons. My kids are worried what the hospital is doing to her as they saw lots of tubes and computer connecting to Grandma.
Little G is sad in this picture because he is wondering why Grandma has lots of tubes. I explained to him that it's helping Grandma right now to make her feel better. We are also consoled looking at Grandma that she's smiling. We felt that she will feel alright soon. We kept praying hard. We want her to stay with us longer. Just this Sunday, we're happy that the doctor finally decided that she is looking a lot better and not having complications with the antibiotics he's giving to her. She got discharged and we assisted her to be comfortable when she got to her house. We're so happy that she got to celebrate Memorial day with us today. And she's happy that she got home before the boys celebrate their birthdays this first week of June.