The bathroom can seem like one of the hardest rooms to decorate. You may be at a complete loss of what to do to spruce it up. There are, however, a number of things that you can do to liven up your bathroom. Here are five quick and easy ways to spruce up your bathroom.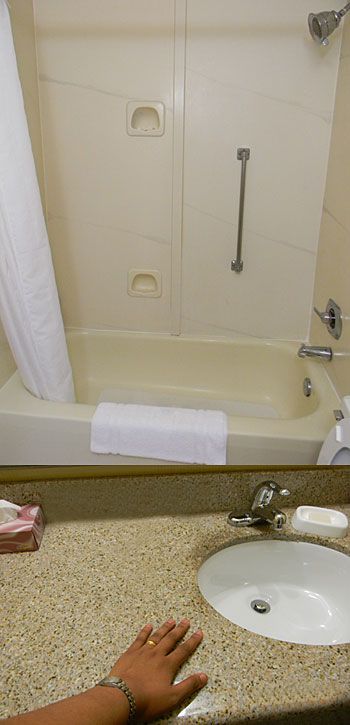 Colour
Bathrooms are too often bland, white and stark. They feel very clinical – not at
all the kind of room that we can relax in. But this can be combated quite easily. A splash of colour here and there really can make all the difference. First, think about colour co-ordinating your towels. It may seem silly, but the colour will have a lasting effect on the vibe of the room. Other things to consider include a coloured or patterned bath mat and some attractive shower curtains.


Tiles
This isn't really an option if you're renting, but if you own your home, you can play around with anything you want. Consider adding some creativity to your plain white tiles. You don't have to be an artist to make something attractive. Practice on paper first, and see if you can use paints to liven up your tiles.


Art
Art can make a huge difference to the vibe of a bathroom. To help dissipate the clinical feel that most have, look into purchasing some calming and relaxing artworks. Ocean and beach scenes are a common choice, as they are both relaxing and attractive. If you feel like it, collect some shells and scatter them around the room. This will transform it from an average bathroom to a shrine of relaxation.


Candles and Lights
If you want to relax with a bubble bath, you don't want the bathroom lights to be on. Bathroom lights are often bright and glaring. To add another splash of serenity, consider purchasing some candles or lamps to give the room a truly relaxing feel.


Storage
Storage is one of the most important things when it comes to determining the vibe of a room. Have a look into the different kinds of storage that are available and see which types suit you. Clutter and mess will make your bathroom stressful and detract from the calming vibes you have been trying to introduce. So, make sure that everything is stored neatly and systematically.
Contrary to popular belief, the bathroom is in fact one of the easiest and most enjoyable rooms to decorate. Once you choose a theme, it's all systems go. Most importantly, take care to make sure that your bathroom remains neat and tidy. If it's messy and cluttered, your livening up won't have the effect you desired. Storage is essential. So be sure to put the time and effort into finding the perfect storage space for your bathroom. For more information about keeping your bathroom neat and clutter free
click here
.