Last week was our second week of Kindergarten homeschooling. My 4 year old is still a beginner to writing, coloring and reading. He can't do it without my supervision. According to my lesson plan, it's normal for kids entering Kindergarten to begin doing writing, coloring, reading and even recognizing shapes and counting numbers. I often forget that because I compare my son to other kids his age (which I should not because every child has his own pace). He already can count 1 to 20 and count backwards from 10 to 1. According to the standard learning of a Kindergarten between 4-5 years old, they should count 1 to 10 and backwards, and can read number from 1 to 20. There were times before homeschooling that we even count 1 to 100 by memory and read it together. My observation to my 4 year old at the moment is that he doesn't like to do coloring very much on his own. And so, with supervision, he will do coloring but only with my help. What he really likes to do is writing letters t and b as this is the letters that we learn in the first 2 weeks. He is still catching up with Phonics like recognizing the pictures and words that has beginning and ending sounds of t and b, and recognizing words that rhyme in a poem or story. I pray that he can accomplish some of the phonics lessons after one month.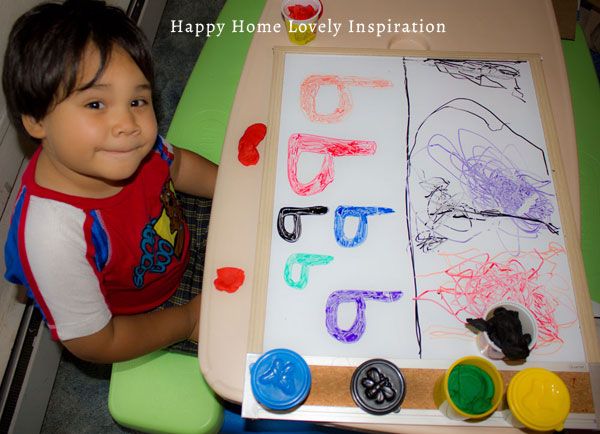 The right side of the white board is the work of my 2 year old. The left side where Little G is sitting is the work of my 4 year old. I draw b's in different colors and let him pick which color corresponds to the color of the b's and he'll use it to shade the inside of the b's. He did most of the shading work on his own.
I hope you guys can link up your 366 BPC posts with me in this blog. Add it in my Inlinkz tool below.