Every homeschool session that I have with Little G, his younger brother tries his best to seek attention. There are times that I feel frustrated. It's hard homeschooling at this stage where one just started and the other one is a tot. They say I can homeschool them both at the same time but it's a challenge because both have different attention span. Little V has the shortest. What I usually do is that I gather them together at the beginning of the class where we do our music together like singing and religious exercise. When it's time to teach core subjects to Little G, there are times that Little V listened but he wanders away and goes to his bedroom and play with his toys. There are times that he's just wind up and so I separate them, where Little G will be in his study table and Little V will be on the kid's picnic table that I placed in the room. There are times that he picks up a book for me to read, so I time out Little G for a few minutes from his lesson and I will read to them the books that Little V picked and when also Little G requests another book for me to read. I give them more time on the things they like to do like reading books, playing with play doughs, markers on the white board and some coloring. They also play with their toys but they are more attracted to the new things I got for them lately which is the markers and play doughs. The thing about these guys is that they don't like coloring with crayon very much which worries me. But they do like more reading time with me, play with play doughs and writing in the white board with colorful washable markers. It's sucking more of my time but it's a good time because I spent it with my kids.
Anyhow, here's one of the cute things that Little V did. I immediately called Little G for a minute and I told him that I see something blue in Little V's work. He said it's a butterfly! I think so too! Little V giggled.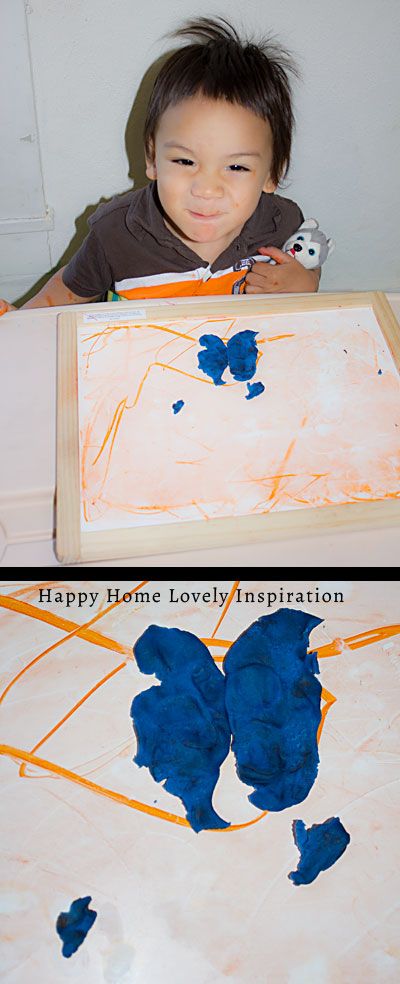 Little V's blue butterfly.
I hope you guys can link up your 366 BPC posts with me in this blog. Add it in my Inlinkz tool below.