October 22, 2014
Have you considered playing from acoustic piano to a keyboard? I also asked my husband if it's that difficult a transition. He said a little because for him, he is used to playing piano with 88 keys in it but the affordable keyboards these days has 76 or less keys in it. He said he really missed his old keyboard that got burned
Keeping a music studio at home has been popular these days. You can keep either electronic or acoustic instruments that you like to play. For music artists who likes to play electronic instruments, you might want to
July 21, 2014
I had fun making my kids birthday cakes. I didn't have time to browse the internet for ideas. I asked my husband to give me an outline of a Godzilla to pipe in my 5 year old's cake (He requested a Godzilla in his cake) and I just made a simple dark chocolate cake with coconut pecan frosting for my 3 year old. I made the buttercream icing and cake (except the one with Godzilla in it) from scratch. The cakes are arguing who is delicious in this pic but to my family and friends who tasted them, they said they are excellent. I like that both of them turned out moist too. I'm proud to apply the baking and icing skills that I learned from my Wilton cake decorating class October last year and April this year. I also made cupcakes last month. This month, I took a course 3 class in Cake decorating. It's all about fondant and gum paste stuff. It's difficult but the efforts are rewarding. I can't wait to bake and decorate my first fondant cake!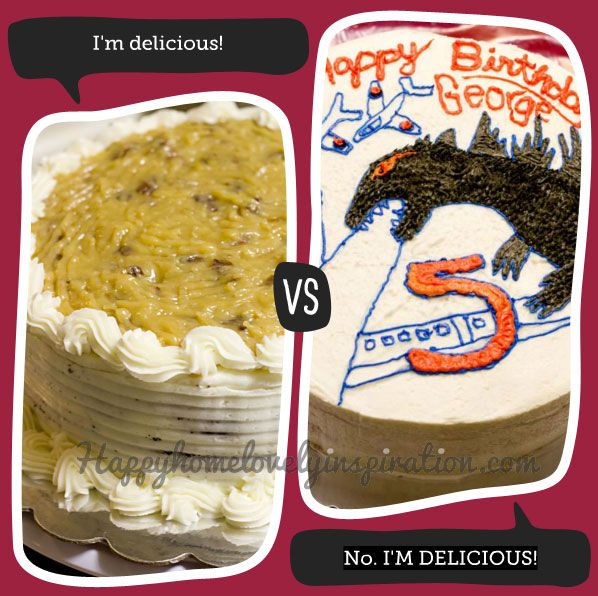 Do you know how many types of violin there are? I'm sure the experienced violin player would know. But to a person like me who likes to learn new things, I found out that it's types has different categories such as size, time period and genre. I thought there is only one violin type, but there are so many of it out there. The most popular one though is the classic orchestra wood violin. Violin is one of the instruments that I would love to learn how to play someday. I read that it's hard to play and that's why I kept putting it off. I envy those friends who can play it. Buying one is not too bad as I saw in second hand stores, they cost around $50 for a classic wood violin. It's tempting! How about you, do you play violin?
My sister's graduation took place in April. It took me a while to post this as there are lots of things that happened in my schedule 3 months ago. Anyhow, I keep looking back at this beautiful moments of my dear youngest sibling. I'm so happy that the 3 of us finally have a college degree and in Nursing too! I love my family and I miss them! Our long distance makes me sad sometimes but it's God's will. My sister got a performance art award in her Nursing batch. She is a very talented sibling of mine. She has passion in Music (I'm jealous!). She knows how to sing and play the guitar. She wants to learn how to play the piano someday. She is now working at a Call center agency in Philippines. I'm proud of her and my brother that they survived living in Cebu city together, the second metro city in our country. I will keep praying for them to have continued success in life.